Library Computers

Twenty public computers are available at the library with your Barberton Public Library card. Computer usage is limited to three hours per day. One express computer is available with a 15-minute time limit on the Main Floor.  For extended projects or to build a resume in Microsoft Office, there is one project computer with no time limit and no Internet access available on the first floor of the library. The computers will shut off automatically 15 minutes before closing.

Each computer has Microsoft Office Suite installed, which includes programs like Word, Excel, Publisher, and PowerPoint.

Printing

You may print from library computers only, at this time wireless printing is not available. Patrons can print from the computers by adding money to their library cards at the circulation desk before logging on. Credit Cards are not accepted at this time. ​
Black and white copies are $0.10 per piece. 
Color copies are $0.25 per piece.

Google Chromebooks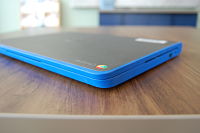 With your library card, you can borrow a Google Chromebook to surf the Internet, work in Google programs, or play online games with the freedom to work in any area of the library. Chromebooks are available to library card holders for a period of four hours. Chromebooks must remain inside the library at all times. 

These devices are available for a period of four hours. For every hour the Chromebook is overdue, you will be charged a $10 late fee. Children and teens are able to borrow a Chromebook with parental permission for Internet use. 



Chromebooks are made available with support from the Barberton Community Foundation and the 2016 Discover Your Library fundraiser. 
Saving Your Work
For the protection of the Library computer system, customers may not save to the hard drive. You may save to removable media such as flash drives or portable hard drives. ​
Wi-Fi
Public Wi-Fi is available. Users must agree to the CLEVNET terms of use. At this time, no wireless printing is available. 
Use of the library computers or Wi-Fi indicates understanding and acceptance of the Computer Usage Policy. Review the library's policies.