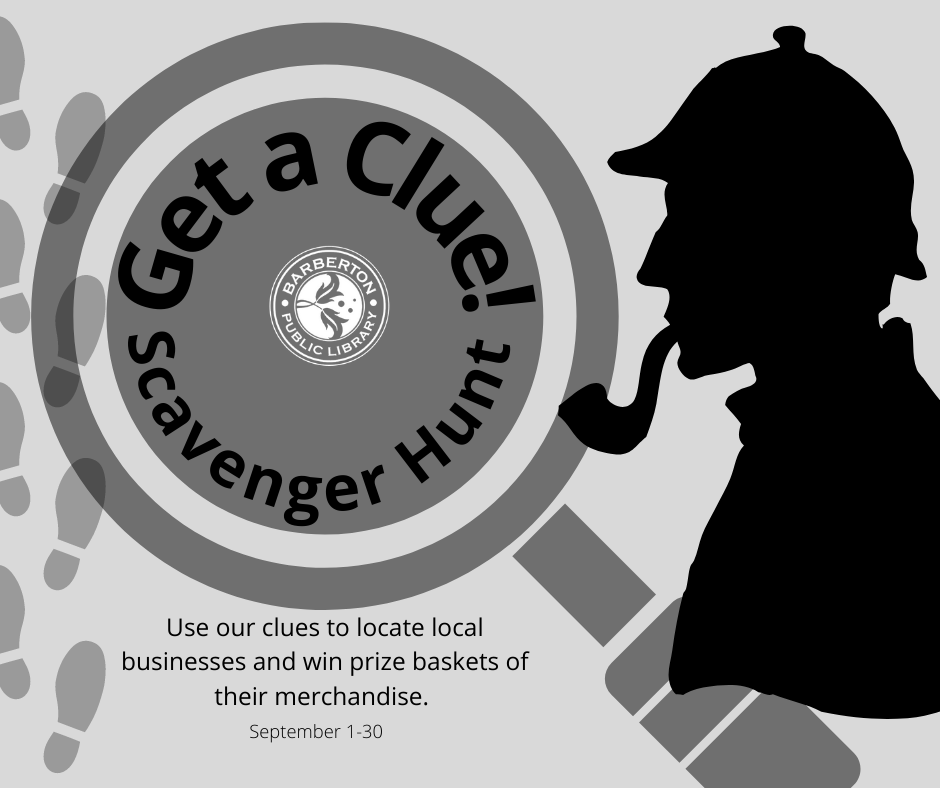 Follow clues to designated businesses and complete a scavenger hunt form for an entry in the grand prize drawing. Participants are welcome to complete both scavenger hunt forms (Sherlock and Miss Marple), one grand prize entry per hunt.
The two "Hunts" are Sherlock Holmes and Miss Marple, each has 7 businesses that participants need to locate. (Hint: Only businesses on W. Tuscawaras and on 2nd Street NW are participating).
Miss Marple Clues and Form Sherlock Holmes Clues and Form Rules
Rules of the "Hunts"
1. The Scavenger Hunts are for adults and teens 16+.
2. The contest runs September 1st-30th 2021.
3. The hunts begin at the library with the first clue.
4. Write the name of the business on the corresponding line for the clue.
5. Clues will be displayed in the front windows of each business: lavender for Sherlock, yellow for Miss Marple.
6. Each business will have a clue leading to the next business.
7. Please observe COVID-19 restrictions and protocols. Wear masks and practice social distancing when appropriate.
8. Kindness and consideration are expected.
9. One entry per person per hunt. Participants may do both hunts.
10. Return completed entries to the Reference Desk on the first floor.
11. Participants name and phone number MUST be on the entry forms to qualify for prizes.
12. The contest ends on September 30th at 8:00 p.m.
13. Winners will be chosen at random from those entries with the correct answers.