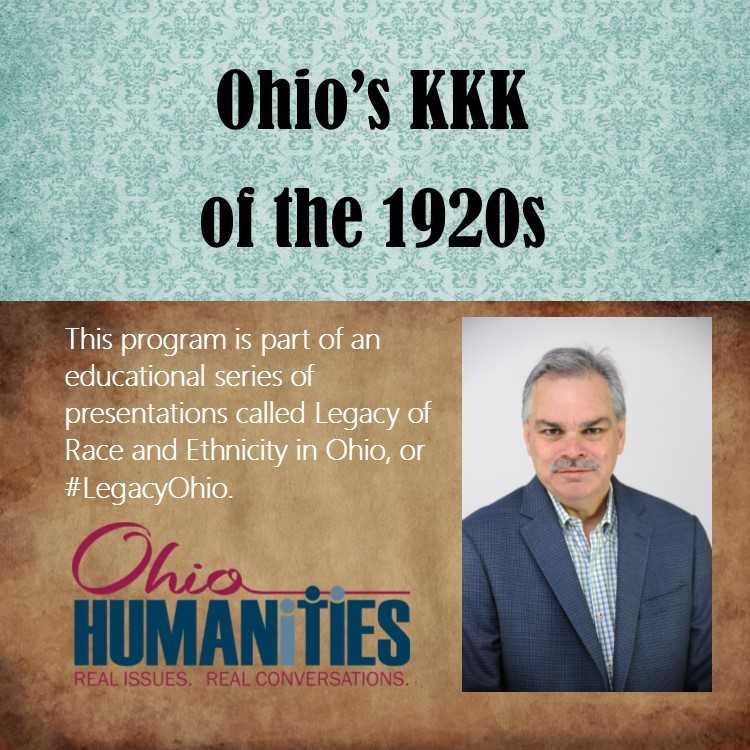 In this presentation, William Trollinger will explore the historical context of Ku Klux Klan activities in Ohio.  This program is made possible by a grant from the Ohio Humanities Council and is part of the
Legacy of Race and Ethnicity in Ohio
series.
William Trollinger is a professor of history in the History and Religious Studies Departments at the University of Dayton, where he is also director of the Core Integrated Studies Program. He earned his B.A. in English and History from Bethel College (MN) and his M.A. and Ph.D. in History from the University of Wisconsin-Madison. His research has focused on 20th/21st-century American Protestantism, particularly fundamentalism, creationism, and Protestant print culture. His publications include 
God's Empire: William Bell Riley and Midwestern Fundamentalism 
(University of Wisconsin Press, 1990) and 
Righting America at the Creation Museum
 (Johns Hopkins University Press, 2016), the latter which he co-authored with his wife, Susan Trollinger. As a result of his extensive research on the Ku Klux Klan in Ohio, he is the author of
Hearing the Silence: The University of Dayton, the Ku Klux Klan, and Catholic Universities and Colleges
 (
American Catholic Studies
, Spring 2013), for which he won the 2014 Catholic Press Award for Best Essay in a Scholarly Magazine.
*The elevator is currently out of order.  There is one flight of stairs from the lobby to the Spillette Room.  We apologize for any inconvenience this may cause. 3/29/2018